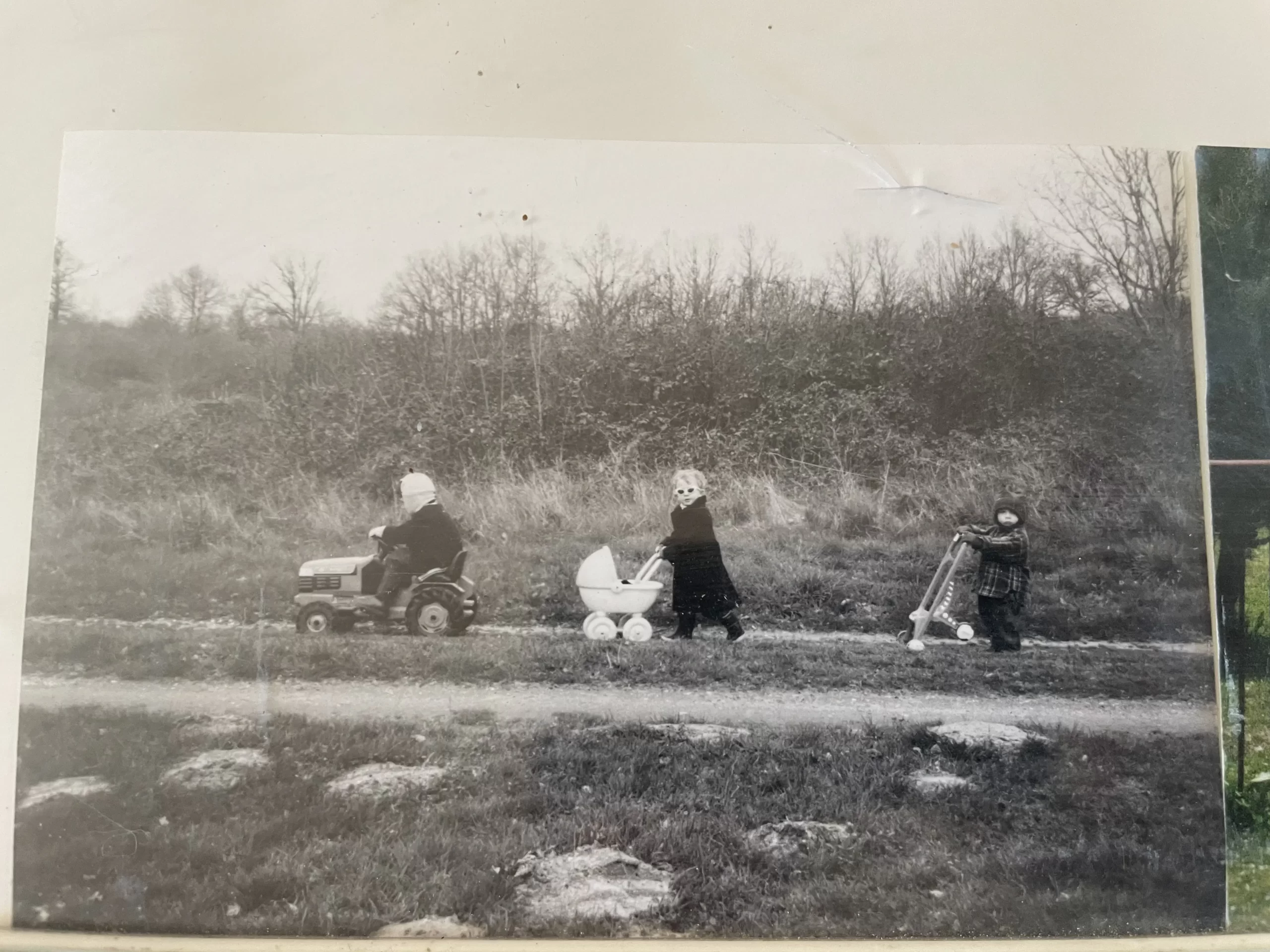 Sologne
I just came across this photo – how I love my life – this immediately took me back and after finishing my herbal tea I sat and wrote this…
These are silver paper photos and occasionally I would use black and white for contrast, recall that we only got to see these once the roll was finished and developed.
Félix – concentration on what I am doing – you don't exist
Maude – looking chic as ever and the 'what you just called?' Look – totally independent and her own way (you can tell tis cold the boys have hats/ cagoules – she refuses… or the hat may be in the pram?) She has always been very sensitive to the sun, always wearing sun glasses.
Hector – giving me a quick glance, carrying the darn push chair as tis not too easy to push here and always trying to keep up with siblings…
Sologne was a shooting lodge where the family had been going since forever for the great uncle started renting it  probably in the 1950s and now it must be early 2000's. So I have always known this area and as for most Parisiens there is an escape place for the weekend to get away – Sologne &/or Normandy. Lucky for us my parents had a pied à terre in both regions!
So the children and I  would trundle off there during school vacations and the father would join us during the weekends.
Sologne is also home of Chambord and other châteaux of the Loire Valley and in winter they had logs burning in the fireplaces to heat the castle as you visited. Often found running around were the children and I, and Chambord being only 25 mins drive away our regular heaven. Didn't they just love us there?!
Some people say things like 'what is normal'? Or 'aren't we all not normal'? Well let me tell you if you are not normal you know it and the children were never 'normal' and neither was I – I put it down to my English upbringing being so different to the french's but now I know tis my neurodiversity that adds a certain je ne sais quoi to the mix. As soon as it was warm enough Maude would be in her amazing Disney Snow White costume (so easy to wash, why not?), the boys in either Batman, Lancelot, Spiderman, Superman or the Power Rangers and of course they would play the part – Felix to the letter and Hector would so follow his brother…
Winter was no different – only in the fact that occasionally if Felix would allow us to dress him according to the weather underneath and not just a flimsy Batman costume in 3°C temperatures as the others would follow suit (pun intended!!)
The photo you see here is typical though and it was the start of the walk, we had gone around the house so as to follow the path (note the tractor) and often it went in order of sibling age. By the end of the walk all coats would be on the tractor or in prams etc as they ran about and collected bits and bob and note those tiny pedals on that huge tractor!!!
You can not believe what we put into those prams,  leaves, twigs, mosses, lichens, dead mice, bird's eggs, nests, mushrooms to be verified via books and posters all the pharmacists would give out during the season – internet was not then such a go to place and besides books are cool!  During the shooting season when Papi Annie was there too the dead pheasants, ducks, rabbits and any other animal my father would shoot and bring home – they were all taken for a ride in the pram, push chair, tractor around the yard in the front of the house. A ritual if you will.
Although at suppertime Félix would question his grandparents 'why are you eating cadavers?' Maude would hasten a 'Yes why eat animal flesh?' And Hector would just look up with his big blue eyes questioning too. I was a fervent vegetarian and raising the children thus in a very meat eating twice a day country with a hunting grand papa was extremely complexe, and as per my usual I would explain in great detail what was being vegetarian about, why we did so, yet at the same time we tried to be compassionate to people like my father who killed things that flew, ran…
What most people do not know about hunters, at least here in France, is that there is an exam to pass to get your 'licence de chasseur' and only with that can you hunt! So they do know a lot about ecology, farming, wild boars lifestyles and there are periods when hunting is prohibited – mating and birthing seasons for one – otherwise they have nothing to hunt 🤭🤣
So this photo brings back so many memories good and bad, fun and sad. I recall very early on I think Félix must have been about 3 for I was breast feeding Hector still, and I almost fell off a ladder fixing some decoration or such – Halloween? – anyway a thought crossed my mind 'What if I do fall and become unconscious? The children are all alone…' Because there was no cell coverage the only phone was the house one. So I taught Félix to dial -18 – the firemen (that's who we call here in France) and say
'Bonjour, Je suis au Paradis, Maman est tombée elle ne bouge plus.'
'Hello, I am at the Paradis, Mum has fallen and is not moving'
God I was so proud of the fact he could do it all alone calmly and when we told Mamie Annie at the weekend she howled 🤣😂🤣😂