Allowing others to speak on my behalf…
(Cat Payen was the undiagnosed me!) Like most NDs I really do not like to ask these so of course years have gone by with nothing said…
When you work with Cat Payen, she will instantly change the way you see things about your business and yourself. Her techniques will cut through any doubts or distractions, as the sole focus of her approach is to make you successful. Cat will hold you accountable every step of the way in order to be the very best and not allow you to fail. Her methods push you to see the top of the mountain and begin the tangible journey of climbing to the summit!
You must know that you really saved my life back then in 2015 when we met first in Costa Rica.
Your support and your love, your contention made it possible for me to get out of an abusive and violent relationship…
To stand up for myself and to be able to believe that I could do better, that I was not trapped.
Love you so much!!!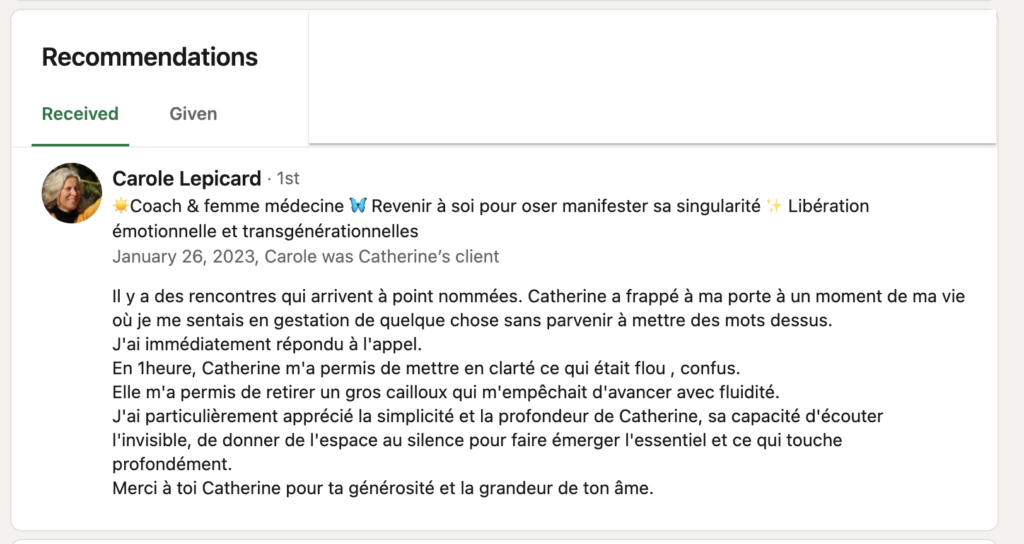 Here is a translation of Carole's text 😬
There are encounters that come at the right time. Catherine knocked on my door at a time in my life when I was feeling the gestation of something without being able to put it into words.
I immediately answered the call.
In 1 hour, Catherine allowed me to put into clarity what was blurred, confused.
She allowed me to remove a big stone that was preventing me from moving forward with fluidity.
I particularly appreciated Catherine's simplicity and depth, her ability to listen to the invisible, to give space to the silence in order to bring out the essential and what touches deeply.
Thank you Catherine for your generosity and the greatness of your soul.


Some people going through traumas, court cases, custody battles
– just a note, a musical note, can go a long way …